Posts: 217
Joined: Thu Jan 14, 2021 1:05 am
Location: China
Contact:
NFT/ - Largest Private Sale of Handshake Name, $84,000 USD
So still catching my breath after a 5+ hour Clubhouse call yet I want to "data dump" as much findings as I can
Read the recap I wroteup of the Clubhouse session on Jan 30-31,2021 here
viewtopic.php?f=6&t=180
But the big highlight was Ryan came on stage - he raised his hand and I pulled him up. After a few other Q&A he started to share his story.
Based in Miami, he heard about Handshake and was looking for the right name/domain TLD to bid on. He was DM'ing Steve McKie in Twitter on tips on how to bid and the strategies.
His FIRST auction was NFT/ which was in early August 2020 (ended on Aug 12) was nft/
You can see the auction action here:
https://www.namebase.io/domains/nft
As a screenshot:
And he was the 8,602 HNS bidder that won, paying the 4,096 second highest bid.
He had to borrow 25% (I believe from my memory it was 25%, may be off on percentage) from his brother to make the bid, cutting his brother in on the deal.
He said it closed a week or so ago (so let's say mid-Jan 2021) for a private escrow sale of $84,000 USDT (stablecoin) with the help of Namebase's team.
WOW.
So much to learn here
1) Namebase helped broker the private deal? No one had heard of this before.
2) The sale was not for HNS, but USDT
3) It was done in escrow
This is in different currencies (buy side and sell side) but let's do some rough numbers:
84,000 USDT in mid Jan at an average price of HNS/USD of 0.12 is 700,000 HNS (84,000 / 0.12)!
So he paid 4,096 in August, and sells for 700,000 in Jan (5 months!)
And he paid out his brother approximately 20,000 USD - which has no clue at all on Handshake - talk about a crazy return for his brother.
Everyone in the Clubhouse call was totally floored and amazed and wondered why this wasn't in any news article. Ryan said it was a more private deal and the buyer didn't want it to be too high profile.
This blows through the highest Namebase marketplace sale of xx/ for 190,000 HNS (nft/ is 700,000 - over a 3.5x higher price).
For more reading on aftermarket sales on the forum:
You can read an amazing post here on Handshake Mercenary about the XX/ sales by WTFman user here:
viewtopic.php?f=7&t=85
Also a post by herd/ on the top Namebase aftermarket sales here
viewtopic.php?f=7&t=98
Getting great support in the community
https://discord.com/channels/6642474484 ... 1986641920
We wonder what the future is for marketplace sales, especially now that the 1 year release period is ending Feb 14, 2021.
Good luck to all, and congrats to both buyer and seller!
Posts: 217
Joined: Thu Jan 14, 2021 1:05 am
Location: China
Contact:
also to include Steve McKie's tweet about this:
very inspiring thanks for sharing.
---
-
-
Follow the herd/
Posts: 217
Joined: Thu Jan 14, 2021 1:05 am
Location: China
Contact:
Namebase's CEO Tieshun just blogged about it today
https://www.namebase.io/blog/single-blo ... usd-84000/
some have been asking me about wallet/ selling for 350,000 HNS as the previous biggest sale.
to be clear - that was at an auction (so it was "burned") - so we didn't count that as xx/ was the highest after market sale that went to a seller / counterparty.
Posts: 217
Joined: Thu Jan 14, 2021 1:05 am
Location: China
Contact:
Posts: 217
Joined: Thu Jan 14, 2021 1:05 am
Location: China
Contact:
more articles and links about this amazing deal.
Jehan/ mentioned it in Namebase's Namer community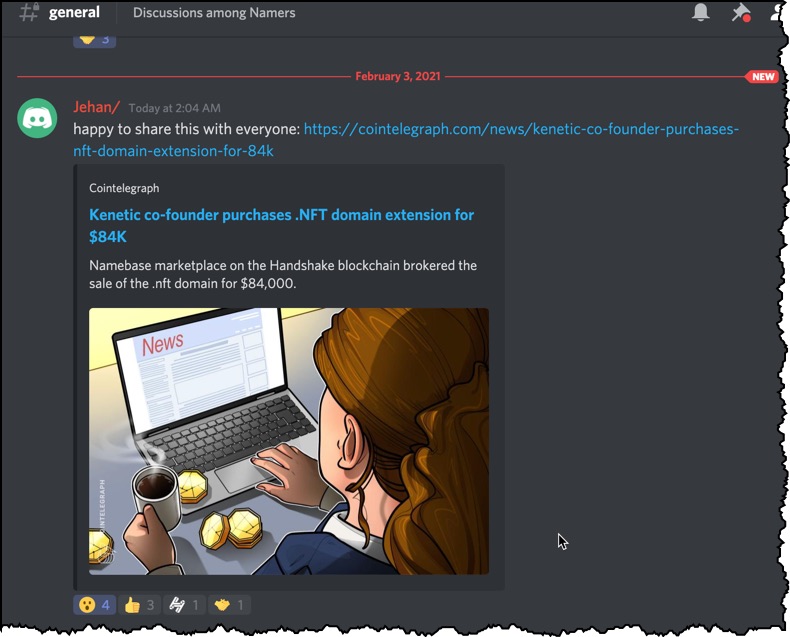 and more articles covering the story:
https://www.investing.com/news/cryptocu ... 4k-2406875
https://decrypt.co/56388/nft-domain-handshake
---